Back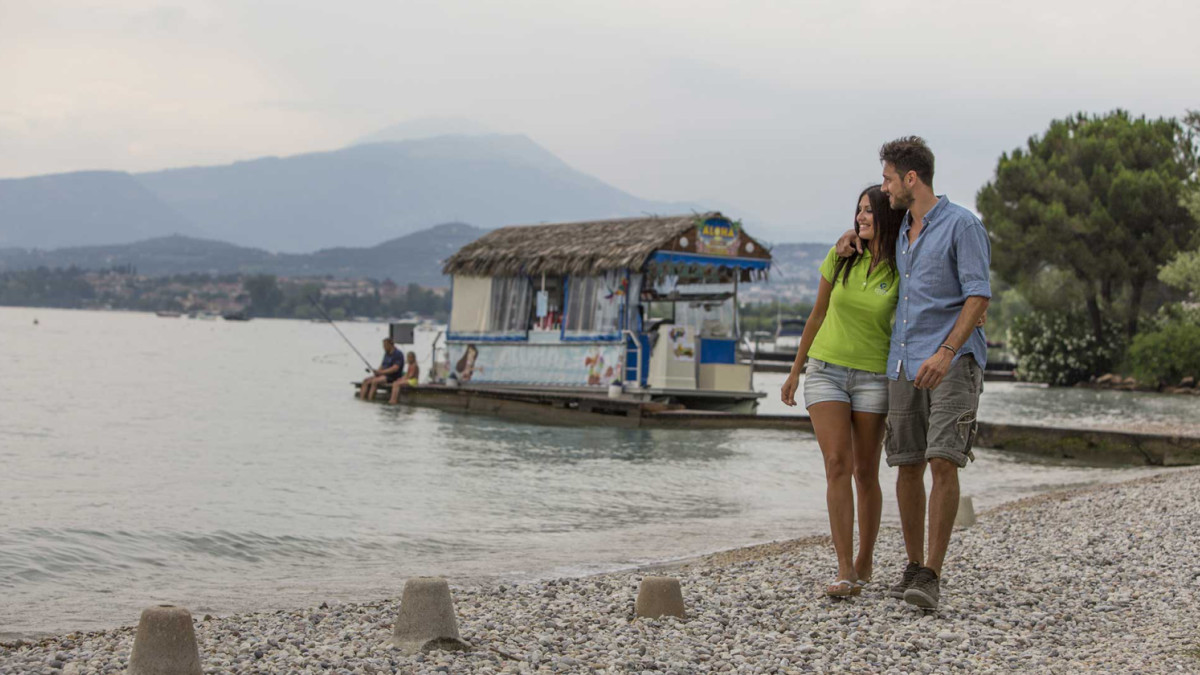 March 17, 2022
Paradise is a stone's throw from Piani di Clodia!
Holiday in Lazise or on the Veronese shore of Lake Garda? Spring and summer on the most beautiful lake in Italy are an explosion of fun, nature, sports and emotions that will last in your minds and hearts forever. The territory offers spectacular places, breathtaking views, local and tourist attractions that attract thousands of visitors every year in every season. What do we recommend in Piani di Clodia, village with water park near Gardaland and Terme di Colà to our guests? Living everything you will find here with full carefree in your eyes! 
All the villages of Lake Garda organize their weekly market, an appointment not to be missed to deeply know the place of your holiday and people who live there all year: are you in love with local food and wine products, antiques, accessories for camping life? Renting a bicycle at the campsite or thanks to the free shuttle bus that reaches Lazise directly from Piani di Clodia, you can go shopping among typical aromas and flavors from the early hours of the morning: an unforgettable experience!
Take a deep breath in the campsite on Lake Garda with a beach during your en plein air holiday in Piani di Clodia, 5-star camping: to fully enjoy a good pasta or pizza at the Catullo Restaurant in Piani di Clodia before attending the entertainment shows, you can be involved in sports tournaments on our soccer, tennis or beach volleyball fields or ride on your mountain bike to reach one of the most beautiful villages in Italy, Borghetto sul Mincio, or Monte Baldo. The upper lake, on the other hand, is a paradise if you love wind sports: sailing and windsurfing are the masters where the largest lake in Italy begins to shrink!
Are you crazy for culture, art and history? Verona, the city of Love praised by Shakespeare in his masterpieces, with its Arena is the scene of international concerts and operas from April to September.
Just reach the Peschiera train station to get to Venice, one of the most beautiful cities in the world, with its bridges and narrow streets that lead to a unique square that always makes everyone speachless.
Are you on smart working and to find new stimuli? In the camping on Lake Garda with water park, where pets are allowed, you can relax in Relais Villa Clodia, an exclusive location with ten apartments where smart working quality is guaranteed by the unique design and services of the staff. Do you love camping life and choose a bungalow or maxicaravan on Lake Garda? Wifi at Piani di Clodia is free and covers the whole camping area with slides in Lazise: so, before connecting to your first web call, you can entrust your kids to the animation team of Piani di Clodia and join them for lunch at the poolside bar. Not bad, isn't it?
The five-star Glamping in Lazise from 2 April 2022 to 9 October 2022 is open to guarantee you a dream vacation: are you ready to discover all opportunities for fun and relaxation?